Marina di Camerota
Holiday homes, holiday apartments & hotels
Marina di Camerota has always been a lively Italian fishing village. When we stopped there in 1999, we were fascinated at once. Tender contacts at first were followed by the first holiday homes and holiday apartments in our offer – it was then and there that the 'journey' of "Cilentano" started off.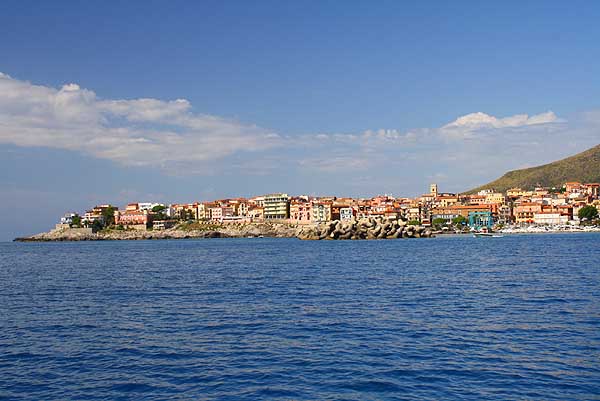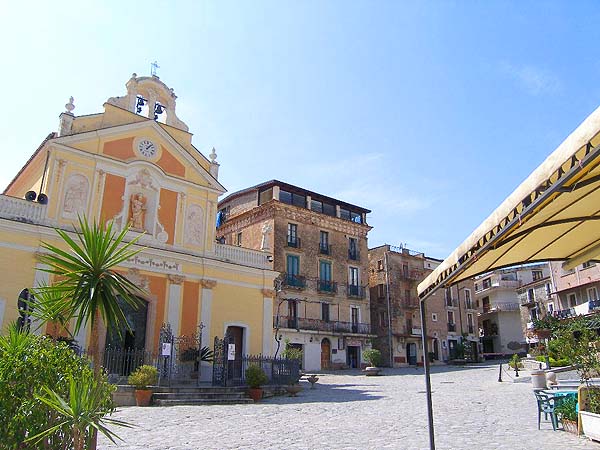 Marina di Camerota
Fishing village with charm
Should you go on holiday to Marina di Camerota today, you will, in many respects, find an Italy of times gone by, i.e. that things are the way they have always been. The bars are still the meeting point of half of the village population, at the "panificio's" people chat about anything and everything and exchange the latest news. In the evenings, they stroll along the well-tended promenade at the harbor or sit together playing a lively game of cards.
Picturesque coastal town
with great sandy beaches
Like a pointed arrow the center of Marina di Camerota juts out into the sea. To both sides of the town lie charming sandy beach bays, such as Calanca beach. For this reason Marina di Camerota is very popular with bathing vacationers, above all during the Italian holiday months of July and August.
Almost all year long, life takes place at the harbor or in nearby piazza San Domenico. The square is 'dominated' by the sunny yellow church of San Domenico; sitting in its shade you may, on some days, simply watch the lively hustle and bustle for hours.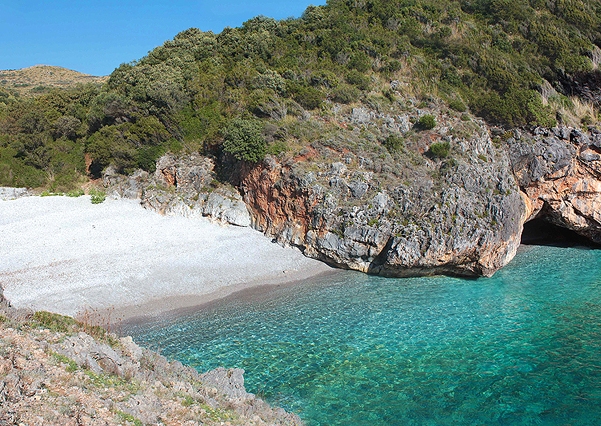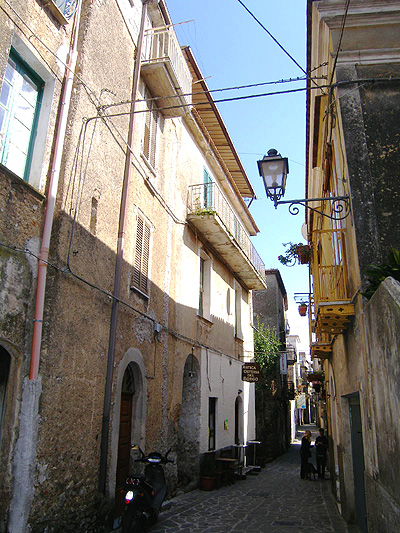 A short walk through narrow Old Town alleys takes you to the "porto turistico". At the mole, colorful fishing boats rocking to and fro next to modern, white motor boats make for a picturesque setting. Early risers can take a walk to the harbor to buy fresh-caught fish from the local "pescatori" there.
On the green slopes above the town center it becomes quieter as you leave the center's buzzing activity behind. In the course of the last century, numerous chic villas, with ample premises and wide coastal panoramas, were built in the districts of Monte di Luna and Previteri. As holiday accommodations they are very popular today above all with foreign vacationers.
It is this special mix of maritime tradition, beach, nature and sea for which Marina di Camerota, without doubt, counts among the most beautiful coastal towns in the southern Italian Cilento region. The advantages of Marina di Camerota are much appreciated also by a large number of Italians from Rome, Naples and Salerno, who often call a holiday home or holiday apartment their own there.
Medieval atmosphere
in the mountain village of Camerota
Camerota rests proudly on a rocky plateau and invites you to stroll through the winding alleys of its medieval "centro storico".
Every now and then, you catch a glimpse of the sparkling sea; the sun adds a warm light to the terracotta colored façades. From up where the castle is located, you have got a beautiful view of Monte Bulgheria.
In spite of its location near the coast, time seems to pass more slowly there. Using and keeping to the old methods, potters carry on their centuries-old craft. At the picturesque weekly market, farmers from the surrounding areas offer fresh fruit and vegetables for sale.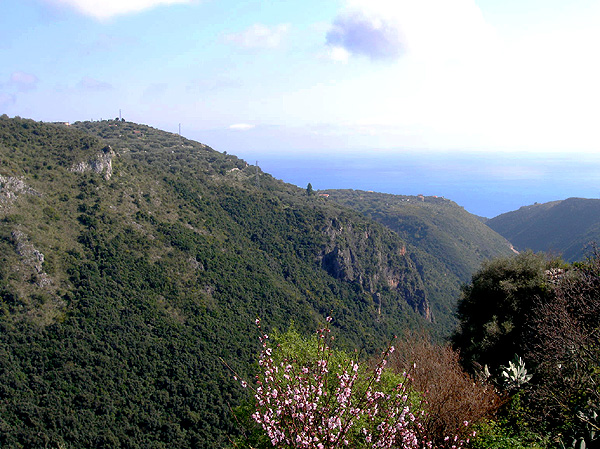 Cilento National Park and
marine nature park Infreschi

Marina di Camerota borders on a core zone of the Cilento National Park. The area around marine nature park Infreschi with its over 25 km of steep coast and its solitary bathing bays, for example Baia degli Infreschi, Cala Bianca and Marcellino, offers a unique experience of nature.
As the bays are accessible only on foot or by boat, idyllic coastal trails have formed in the course of time. From Monte di Luna in particular, and of course the holiday homes and apartments located there, the trails are easy to reach.
Excursions to the grottos of the marine nature park, for example famous Grotta Azzurra, depart from Marina di Camerota. At the harbor, fishermen are waiting to take you out to sea in their boats.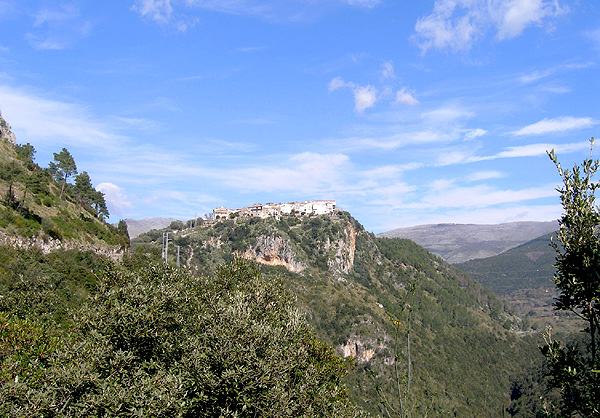 Marina di Camerota
A paradise for hikers
Around Marina di Camerota hikers find numerous possibilities and ways to discover the most beautiful face of the Cilento.
The high-altitude hiking trail from Camerota to Marina di Camerota with its fantastic views of the coast, hiking tours to Porto degli Infreschi as well as in wild-romantic Vallone del Marcellino leave nothing to be desired.
South American traces
in the Cilento
From the mid 19th century on, many inhabitants of Camerota and Marina di Camerota emigrated to Venezuela to escape poverty in Southern Italy and to try their luck in South America – and most were lucky.
From the 1980s on, one by one many of the emigrants returned to their Italian homeland. However, their close relation with Venezuela is still evident today. Street names such as Via Bolivar, the main street, and the annual festival Chévere keep alive the memory of the past. If you take a closer look, you may find one or the other Venezuelan product in the small "alimentari" at Marina di Camerota, in the alleys you might hear some Spanish syllables – a touch of South American exotic in Europe. By the way: Quite a number of our holiday home owners from Marina di Camerota were born and raised in Venezuela. Who knows, you might get to talking.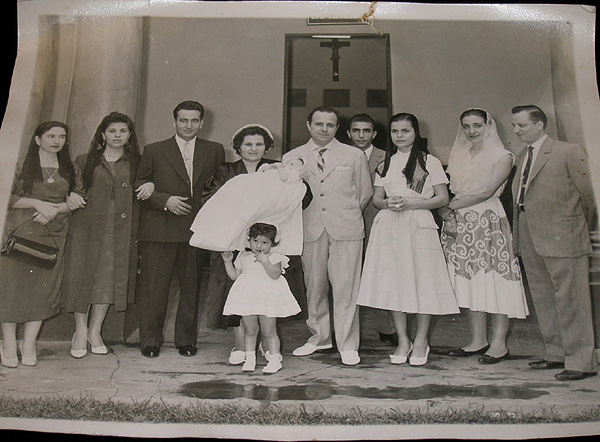 Book your holidays at Marina di Camerota