Marina di Pisciotta Holiday homes & holiday apartments
Bars spreading a summer-time atmosphere with terraces and seating accommodations right by the sea, small, but fine restaurants offering local seafood cuisine and the dreamy harbor, at the entrance to which the Madonna del Mare stands guard, where colorful fishing boats lie at anchor and sailboat masts rock to and fro in the wind – all this makes up Marina di Piscotta. 
For many decades fishing played the most important role in many hamlets of this kind by the sea. It is still part of Pisciottan everyday life today and provides above all the ristoranti on the seaside promenade with fresh-caught fish and delicious seafood.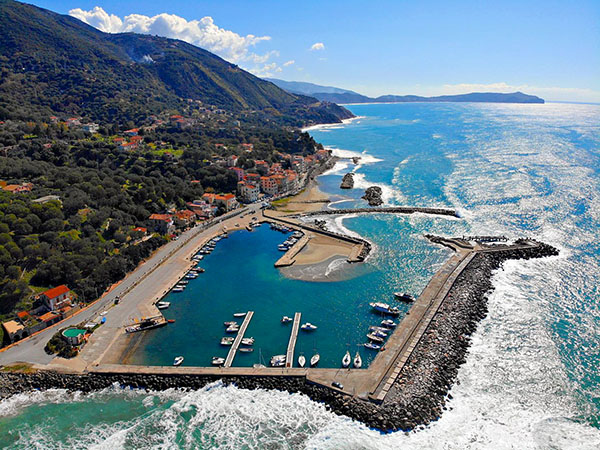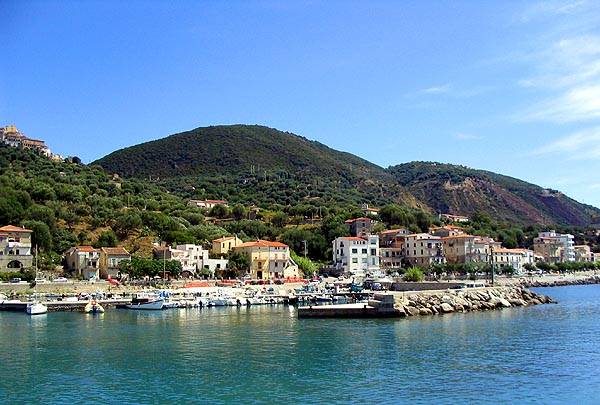 Off the tourist tracks
at Marina di Pisciotta
While in winter life takes place mostly at the mountain village of Pisciotta, Marina comes very alive during the summer months. Off the harbor lies the lovely beach of Marina di Pisciotta, which, depending on the current, has either more sandy or more pebbly sections.
What the beach hardly ever is: crowded or overrun. Whereas in other places you find lidi crowding together, one next to the other, at Marina you find only one small sunshade and sunbed rental without bar. What you might need to drink or eat is supplied by the bars and by Tipicoteca Cilentana on the seaside promenade, where you can order panini and warm meals to be delivered to where you are seated and have made yourself comfortable.
It is towards the evening that a charming atmosphere then envelops the village: beachgoers pack up and stop for an aperitivo at the bars while the sun slowly disappears into the sea. Women and men sit along the lungomare chatting about everything and anything. 
The Cilento's hilly landscape and the façades of Marina's houses are bathed in a warm orange hue – it's simply entchanting. Summer might be the nicest time of the year, but winter is the time of the most spectacular sunsets at the seaside.
Our tip for the summer season: For a special, individual way of discovering the picturesque coast between Ascea and Palinuro, stop by the boat rental at the harbor of Marina di Pisciotta, where you can charter motor dinghies without license.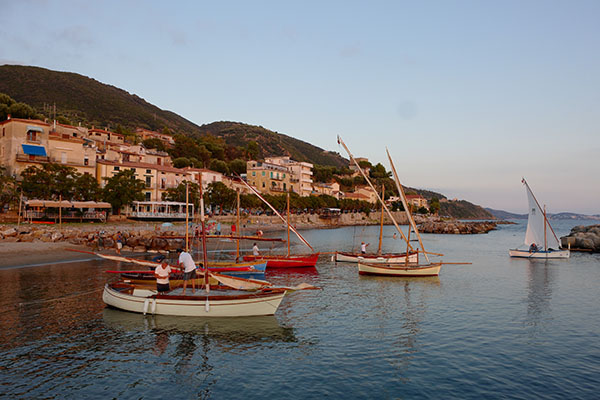 Fishing tradition
"Alici di Menaica"
It is a centuries-old tradition which has been kept alive at Marina di Pisciotta to this day: "Alici di Menaica" fishing – a method of fishing passed down by the Greeks. Only if you have got a license are you allowed to cast the specially knotted nets to catch anchovies off the coast between April and July. What is so special about Alici di Menaica apart from the method of fishing – only the full-grown fish get their heads caught in the nets – is the processing that follows. Immediately after the anchovies have been brought to shore, they are put in layers, each layer and space covered with coarse salt, into wooden barrels, where they are left to ripen for several weeks. It is a natural way of preserving the anchovies.
At the local restaurants you are sure to come across the "Alici di Menaica" again and again. So take a close look at the menus and you might get an idea or two for some new dishes. Cilentan cuisine is both simple and ingenious. You only need the proper ingredients.
The Alici di Menaica are available on site for example at Tipicoteca Cilentana or right at the producer's in Pisciotta: at Marianna Coppola's Laboratorio Artigianale Menaica (in Piazza Pinto).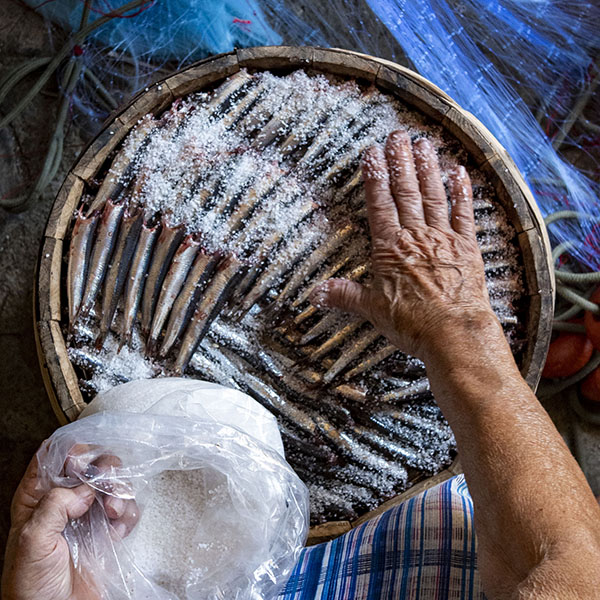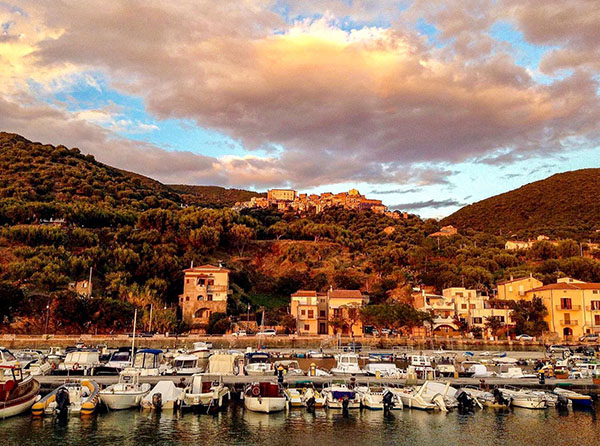 Pisciotta
Picturesque mountain village
It sits enthroned above Marina, on a hilltop and visible from afar – the medieval village of Pisciotta. From Marina di Pisciotta a ca.1 km, partly stepped footpath runs up to Pisciotta and takes you straight to the village center. While "ascending", do take a break or two, turn around and enjoy the panorama that opens up behind you.
By car it is about 3 km from Marina to Pisciotta, where parking is available around the village center.
Mobil mit dem Ape-Taxi
"Ape Calessino 58"
Ein ganz besonderes Erlebnis ist das Ape-Taxi (für max. 3 Personen) von Signor Nello, das Sie nach vorhergehender Reservierung zum Bsp. vom Bahnhof zur Marina oder hinauf nach Pisciotta bringt. Gern sind wir Ihnen bei der Reservierung behilflich.
Auch darüber hinaus kann der Ape-Shuttle jederzeit spontan in Anspruch genommen werden. Es reicht ein Anruf bei Nello unter +39 339 149 1310. Keine Angst, Nello spricht etwas englisch. Die Wartezeit auf das Ape-Taxi beträgt i.d.R. nie mehr als 20 Minuten. Die Ape verkehrt zwischen Pisciotta, dem Bahnhof Pisciotta-Palinuro, Marina di Pisciotta, Caprioli und Palinuro.
Die aktuellen Preise pro Person erhalten Sie in den Buchungsunterlagen.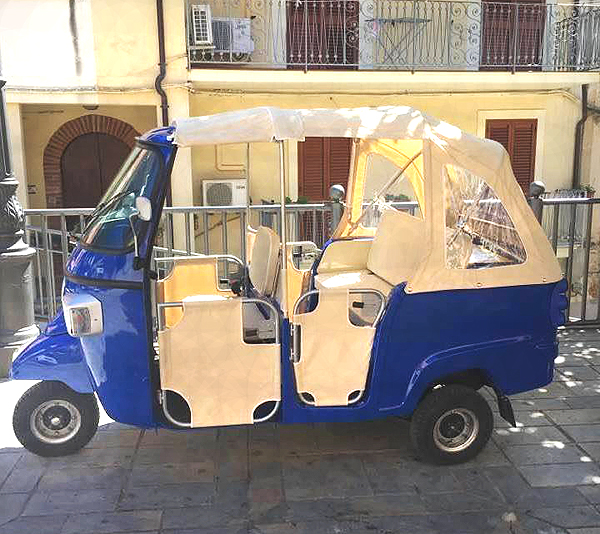 Book your holidays at Marina di Pisciotta